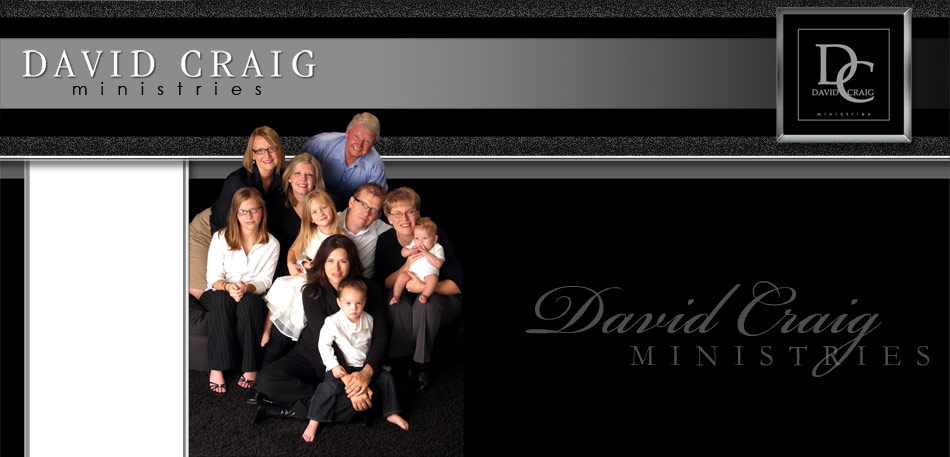 About David Craig Ministries

God has put a desire in Dr. Craig's heart to teach to every nation through Television, Radio and International Missions. Today, David Craig Ministries' broadcast messages in over 8 states by Local Television Stations and via Internet, DirecTV and Satellites worldwide. David himself has taught in eleven countries and looks forward to adding new ones this year. David Craig Ministries recently purchased their first radio station: 25K watts, KLUH 90.3 FM, out of Poplar Bluff, Missouri. His years in television and radio and media ministry are a large part of the work he has been given to accomplish for the Great Commission.

The first radio programs were broadcast over a small local station. His studio was a table in the corner of the family living room and the programs were recorded after the rest of the family went to bed on a cassette recorder. The early television days had meager beginnings as well. With minimal equipment, but great zeal for Jesus, the media outreach of David Craig Ministries continues to grow. DCM regularly hears from listeners' world wide who've been impacted with this gospel message. The inspiration to believe and act on the Word of God has changed many lives with faith leading to more faith.

With almost 30 years in the ministry, Dr. David Craig wants to teach the believer how to be a Success in Life in Christ. In his personal search for fulfillment, Dr. Craig, has learned to apply Biblical principles to over come. Life on the family farm as one of six children provided many opportunities to overcome adversity with faith in God. David Craig uses "down-home" illustrations as he teaches his audience application of the Word of God. David teaches his audiences how to "Come Up!" from the circumstances of life and "Allow the windows of Heaven to be opened upon you to pour down blessings you don't have room enough to receive!"

David Craig is also well known for his marriage teaching the "Noble Knight"; financial blessings through "Seed Sowing", "Who You Are in Christ", as well as many other life changing messages that help the Christian grow and mature.

In addition to his pastoral duties and his multiple broadcast ministries, Dr. David Craig is also an Executive Board Member of American Missionary Teams. He is the Central American Director of International College of Bible Theology and Midwest Theology Seminary.

David and his wife, Harriet, have been married for over 36 years and have four children and three grandchildren. Harriet Craig serves as an Associate Pastor at Life Church, located in Sikeston, Missouri.